The Beloved Invaders play instrumental surf, featuring both originals and covers of classic and modern surf tunes. Now if you're thinking beach music, consider all that is surf: Dick Dale's classic "Misirlou" from Pulp Fiction, the reverb-drenched guitar sound of "Pipeline", the Latin groove of "Sway", the jazzy sounds of Duke Ellington's "Caravan", the desert theme from "Lawrence of Arabia", the spy classics "Hawaii Five-O" and "The Fugitive", the slow waltz of "Sleepwalk", and the eastern-European slam-dance of "Dark Eyes"....

The Invaders play all of this and more, as well as their original compositions, which alternate between driving and jazzy, haunting and exotic.
All of it is music that will make you move, all done in retro-fashion - the real deal.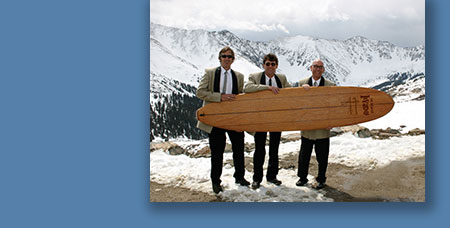 ---
The Beloved Invaders:

Bob Cannistraro lead guitar
J. Scott Johnson bass guitar
Kurt Reber drums

---
Where did you get the name "The Beloved Invaders"?

In the early 1960's, surf/instrumental music dominated American radio, and one of the most popular bands was The Ventures. In the mid-60's, however, The Beatles and other British bands took over the airwaves, so the Ventures went to Japan. The Japanese embraced the group whole-heartedly, and dubbed them their "beloved invaders&quot.











Website created by Michael J. Lee